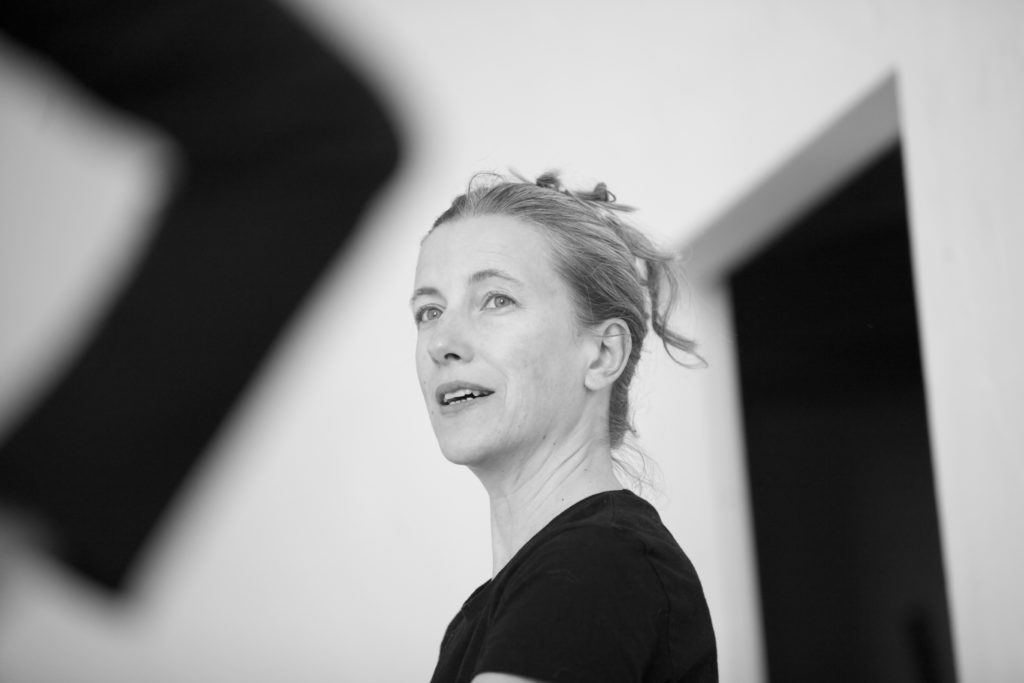 photo by Angela Ankner

Jagna Anderson is a Berlin-based multidisciplinary artist, vocal composer/performer, director and freelance curator.
She studied art history and philosophy in Poland and Germany. Upon obtaining her doctorate at the University of Tübingen she was appointed research associate at a variety of institutes in Germany (University of Münster, University of Leipzig). In 2010 she shifted her focus entirely to artistic work.
In her interdisciplinary projects Jagna Anderson explores the performativity of (urban) space and of multi sensory in-formed body, generating each other in the course of their interaction. Sound and movement are aknowledged as two aspects of the same process. In question is the possibility of freedom in-between structures and actions.
Jagna studied applied anthropology of voice with Ulrike Sowodniok, and instant composition with Thomas Gerwin and Ute Wassermann. Her professional movement education includes Moving on Center School for Somatic Movement Education (Berlin, Tanzfabrik) and Laban/Bartenieff Movement Studies (EUROLAB e.V. Berlin, basic). She trained physical improvisation i.a. with Ruth Zaporah, Sten Rudstrøm, Rosalind Crisp, Andrew Morrish and Seke Chimutengwende.
Since 2015 Jagna is a member of RaumKlangEnsemble for experimental music led by Thomas Gerwin, and since 2016 a founding member of Ensemble Medulla led by Ulrike Sowodniok. Since 2017 she creates pieces together with WAH-collective.
2015 Jagna initiated and led the interdisciplinary project Görli Dreamin' – creative exercises in urban ecology of sound and movement, generating performance structures based on urban field research (showings in September 2015 and in May 2016 at the Performing Arts Festival Berlin). As continuation of Görli Dreamin' Jagna founded 2016 p.u.r.e. – performative urban research ensemble, which explores the urban sound and movement within the frame of site-specific performative walks (p.u.r.e walk).
In August-September 2016 Jagna's piece "Europe, interrupted …" was chosen to be a part of a Berlin-Warsaw project 291. Dynamics of Chaos, celebrating the 100th DADA anniversary and produced by the Art Collective Format Zero (Warsaw, Poland).
2013/14 Jagna Anderson co-founded impro.per.arts GbR – an international platform for improvisation & performance art, hosting performances, professional workshops and research projects in the field of instant composition and performance. 2013 & 2014 she was co-organizer of the Action Theater & Physical Improvisation Festival Berlin. In 2015 Anderson launched the 60_minutes research platform and performance series at Mime Centrum Berlin, which she is curating since then and moderating the associated artist talks. Since December 2014 she is leading a weekly performance lab at Mime Centrum Berlin.
Since August 2016 she is curating a professional composition laboratory PERFORMOMAT.
Since Dezember 2016 together with Dodi Helschinger Jagna is curating studio bLAU, a space for performative close encounters with focus on vocal performance art and multi sensorial settings.
Member of the research group IIIF – International Interdisciplinary Improvisation Festival, founded by Benedikte Esperi (SE), Catharine Cary (USA/F) and Thomas Johannsen (D/NL); further members are: Andrea Hackl (AUS/NL), Esmeralda Detmers (NL), Maria Michailidou (GR/NL), Shelley Owen (GB).
Collaborations i.e. with performance artists/choreographers Dodi Helschinger, Anja Weber, Ulrike Sowodniok, Gosia Gajdemska, María Ferrara, Lerna Babikyan, and with composers Michal Talma-Sutt, Korhan Erel, Gabriel Santander.
Degrees & certificates
1993 – MA in art history at Katolicki Universytet Lubelski, Polen

1996 – completed her degree in philosohy at Universität Tübingen, Germany

2002 – Ph.D. in art history at Universität Tübingen, Germany

2013 – Somatic Movement Education, certificate from Moving on Center/Tanzfabrik Berlin

2013 – Applied Anthropology of Voice, certificate from Universität der Künste Berlin

since 2013 – Laban/Bartenieff Movement Studies, in the course of certification from EUROLAB e.V.